---
Eurobooklet And Menu
("Golden Rice", Russia)
有り難う!
This is a very recent (September 2019) and quite technical, but interesting order in its own way. A café with a very large assortment of dishes ordered the design of a non-standard euro booklet by design, which only required a little development. I decided to do the same as I do with catalogs, and make up everything at once in Adobe InDesign (I love this layout program, it's wildly convenient) instead of the default for all local designers Corel Draw. And why didn't this thought occur earlier?
After approvals and launch, an order came for the redesign of ready-made menus, in the same style. This is a good sign. As a result, a lot had to be recalled, but in the end the result came out neat and competent. Such orders are good because they can be done more or less quickly, they require concentration and attentiveness, and also allow you to practice in design as such and typography, which I love very much. So is sushi. Domo Arigato!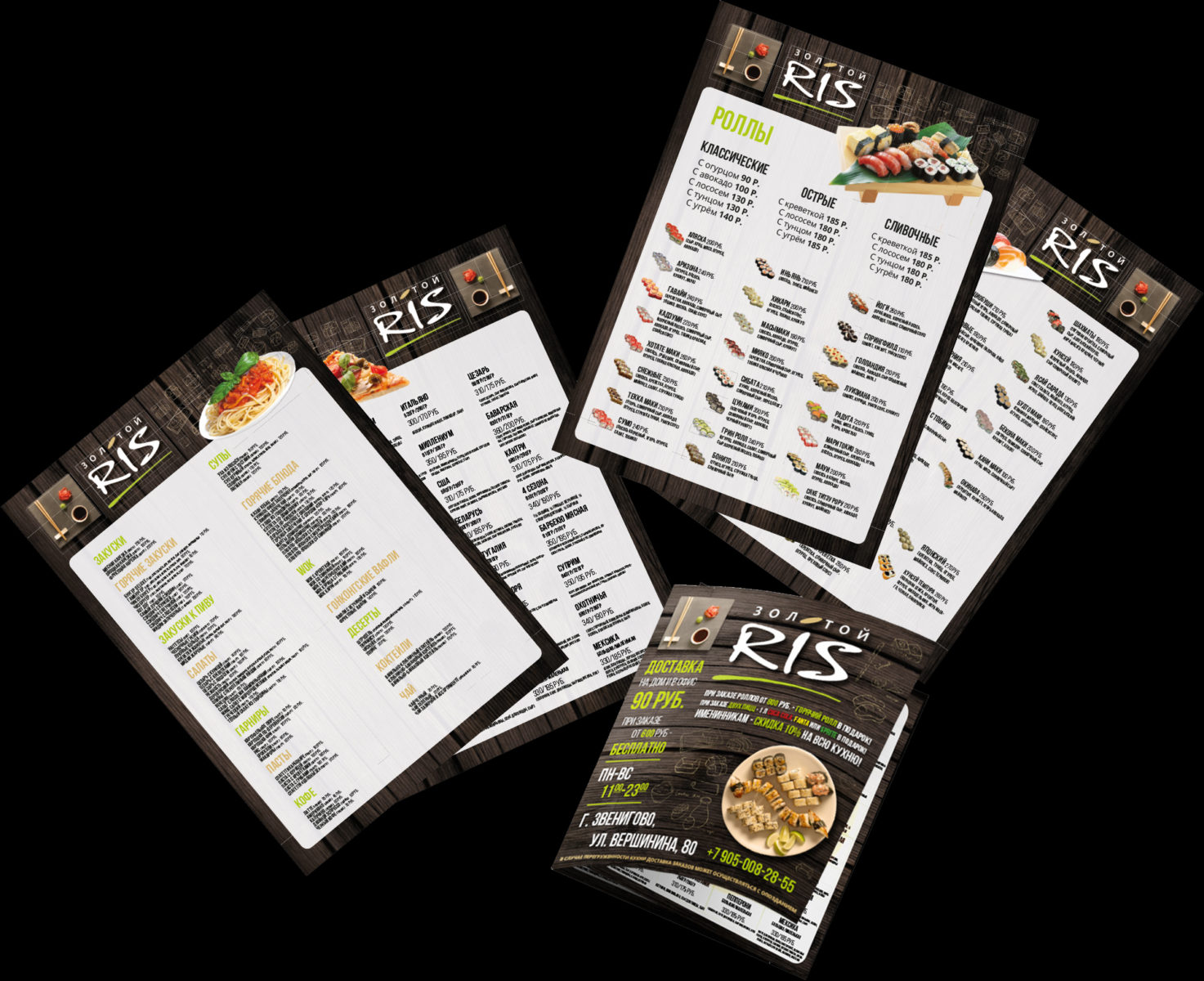 ---
Huge Furniture Catalog
(LLC "Empire")
How Was It Made
On this project, I realized that properly organized work from the very beginning is the holy grail. And doing such a thing in addition to the main job, office, is a colossal mistake. It became an incentive for me to reconsider everything I do and change my life, changing my office to freelancing, in order to create an opportunity for a freer lifestyle in the future.
I worked on the first version of this catalog in 2016 (the renders were from 2013; the website was made in 2015), this version is already the third, on which I have been working so closely. It was typeset in Adobe InDesign, missing or requiring an update graphics was created in 3ds Max + Vray / Corona, some of the renders – in Lumion. For the schematic views, a special global material with transparency and sharp edges along the contour was used, this is not just a Wireframe view (some of the ancient models had to be redone for greater detail). All dimensions in the diagrams, except for kitchens, were set manually (in kitchens, the size arrows were also part of the schematic rendering in orthogonal projection).
---
Eurobooklet №2
(Advertising Company "ArtSoyuz", Russia)
Second Coming
For this project, the second version of the brochure of the advertising and production group "ArtSoyuz", we decided to simplify the design, focus on the traditionally considered aggressive red as a kind of "hello" to competitors, develop our own visual in order to place it on the inside of the sheet, place on the back side there is a map and a QR code – plus I added inscriptions made in my own handwritten font.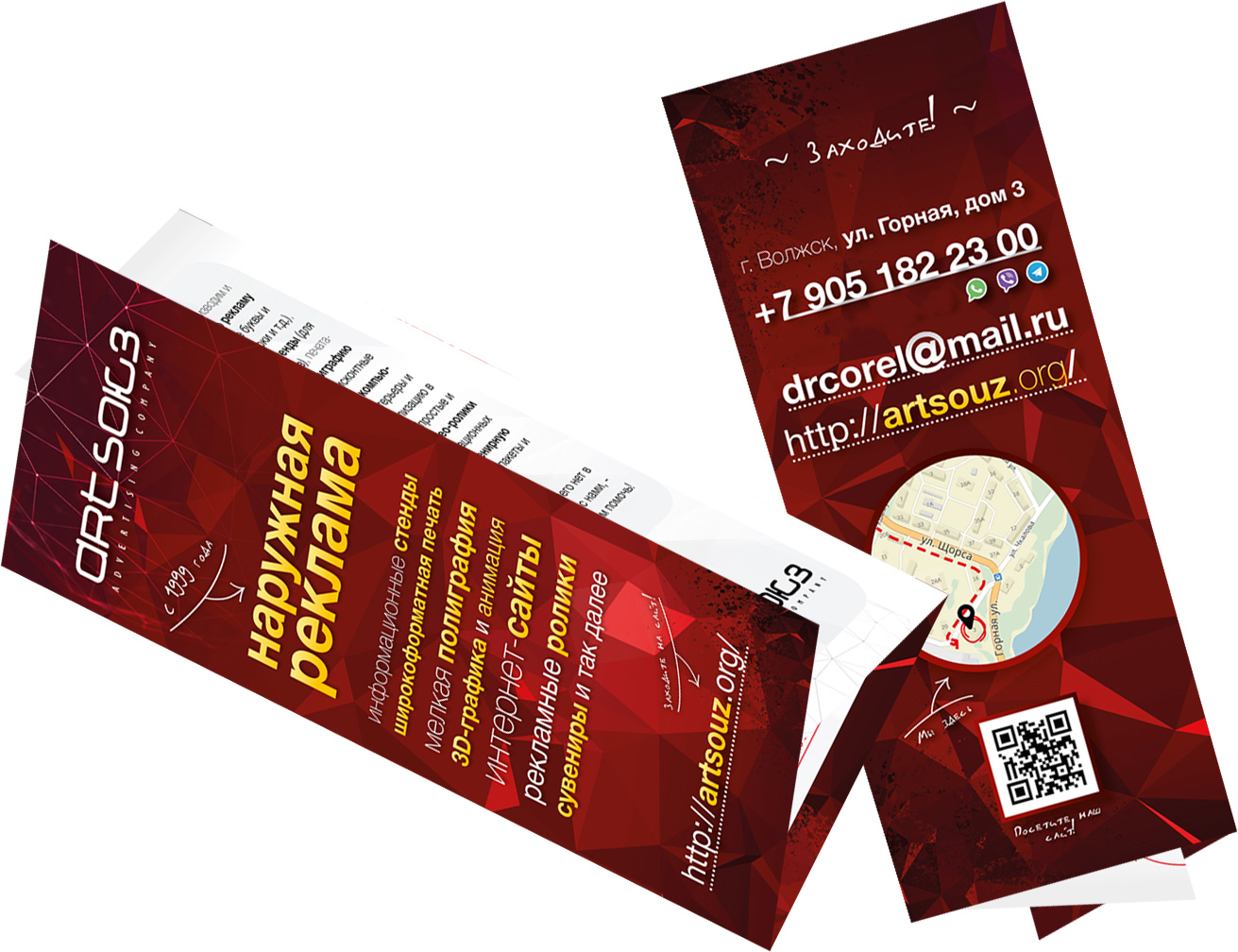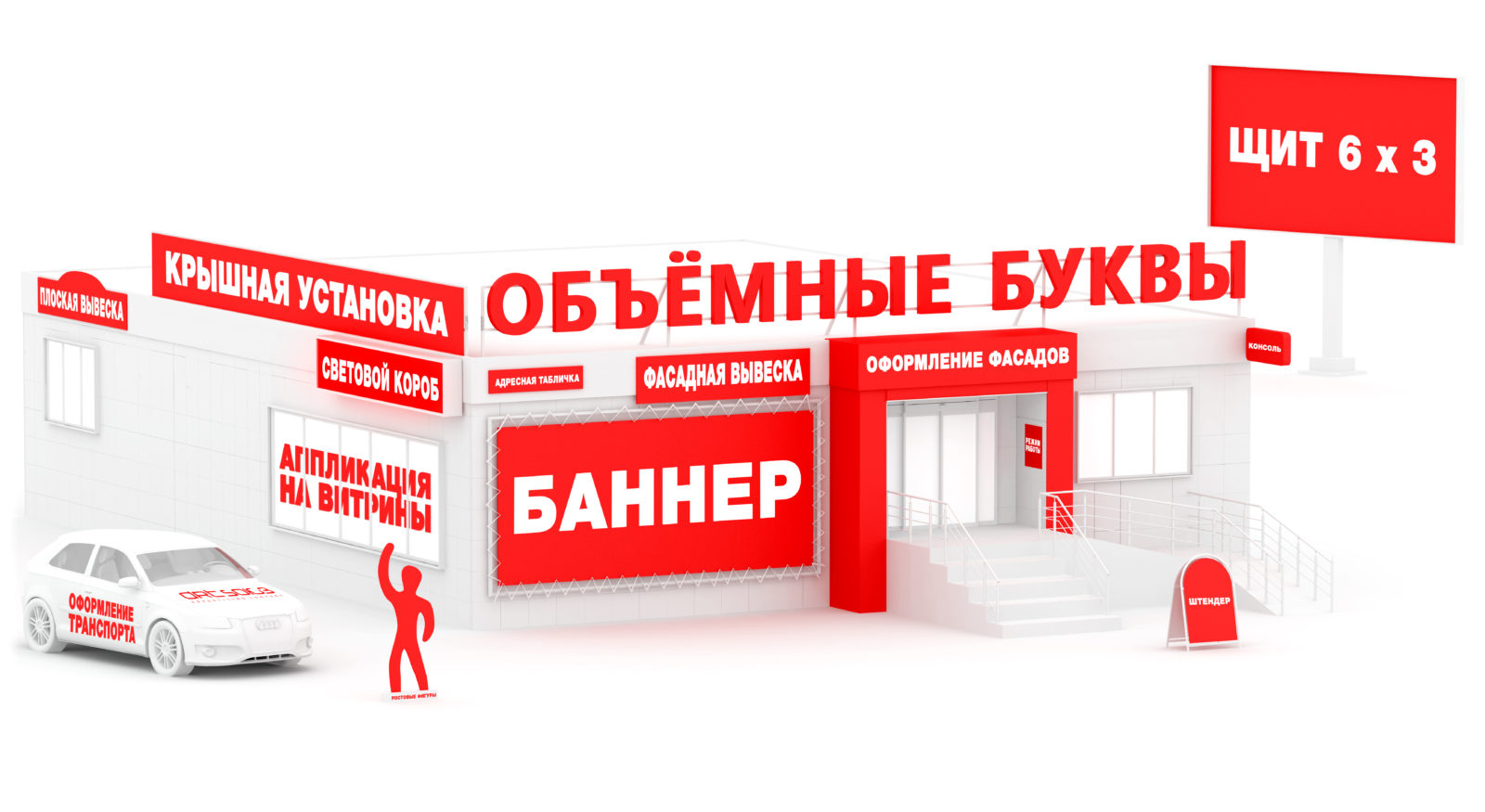 Old booklet design, 2014 version. Strange, but I still like it.
---
9th May – Banners
(Russia)
Dear Comrades!
In the Russian Federation, May 9, Victory Day and the formal end point of the Soviet-German segment of the Second World War, is a special holiday that unites many people. Advertising agencies often order banners with near-holiday symbols for this date, and 2016 was no exception.

Then I got the idea to do something, on the one hand, based on documentary things, and on the other hand, something epic, reminiscent of "300 Spartans" by Zach Snyder. Therefore, I carefully selected the highest quality images that I could find, combined them into one composition with a single perspective in Adobe Photoshop, painted on shadows and chiaroscuro where necessary, made a general sepia color gamut (fortunately, the images are black and white), added sparkles, sun glare and smoke effects with the Lazy Brushes set – and finished the design with a simple yet expressive text piece. It turned out simple and effective, cinematic and moderately pretentious (although today I would have done this design a little differently).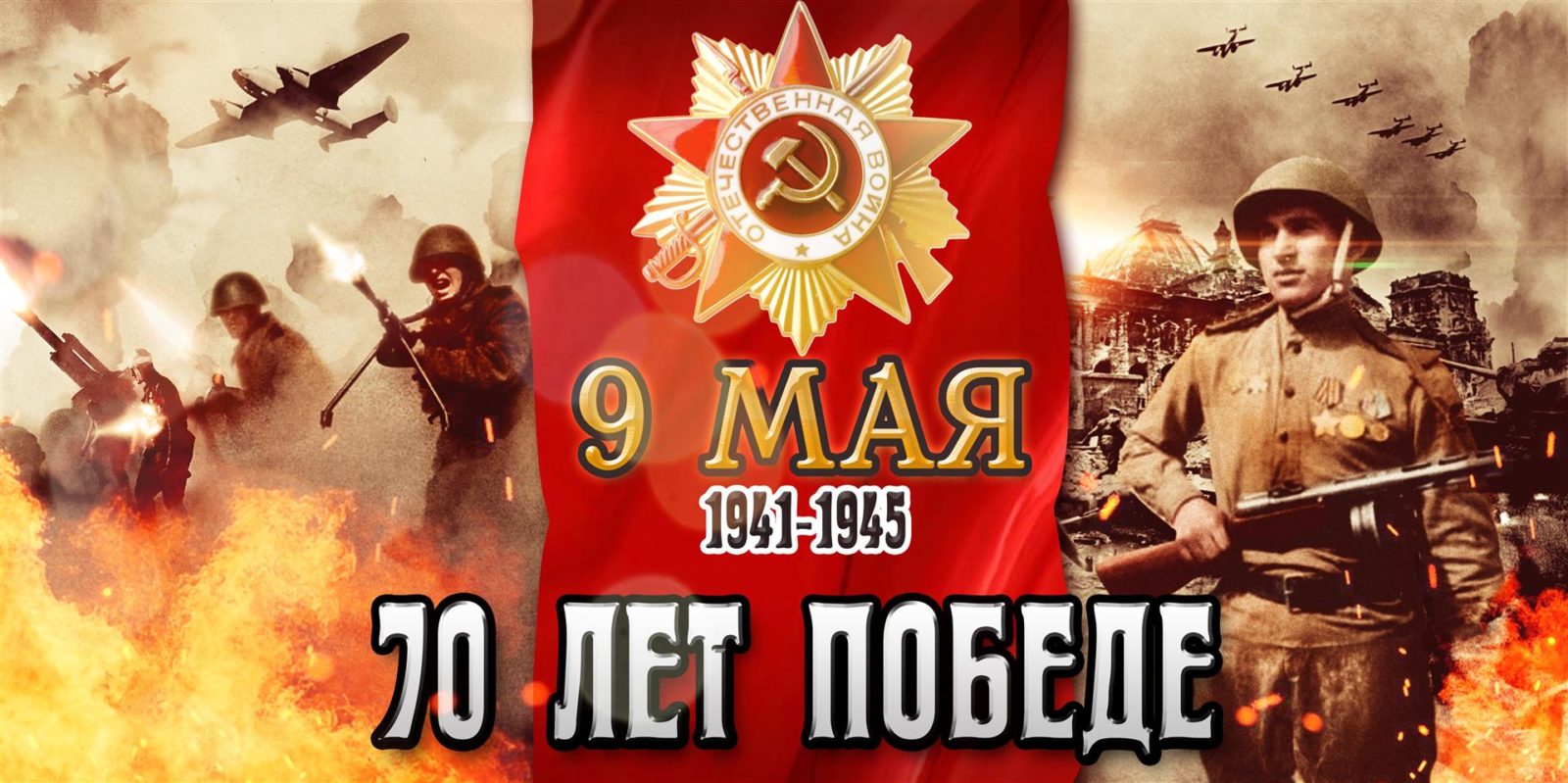 ---
Business cards and discount cards
A Little Explanation
Even the smallest business card can be stylish, bright, eye-pleasing, balanced and readable. But the main thing is that you like her.
In this collection, I especially want to note "Pizza Express" – they already had a design and general style, but there was no file for printing, so I made the most similar project and added realistic details.
---
Illustration Commisions
(Happy Customers Around The World)
Colorful Horses
This is a very interesting and fruitful experience: a series of orders from abroad for vector graphics based on the popular animated series. Drawings were done in Inkscape, color correction and shading – in Photoshop.
Let Me Know If I Can Do Something For You! 👋
0